How Solar Net-Metering works?
In grid-connected Solar PV systems, the DC output generated by the solar panels is converted into AC (alternating current) output by a solar inverter. This output, from the solar inverter, called solar energy, is connected to the distribution board or switch board of the building or the home and is then consumed by the electrical appliances. If the solar energy produced is more than what the connected loads in the building or home consume, the surplus solar energy is automatically exported (energy export) to the DISCOM's distribution network (the grid) with the help of a two-way meter. If the solar energy produced is less than the total energy required in the building, then the shortfall energy is automatically supplied by the grid (energy import).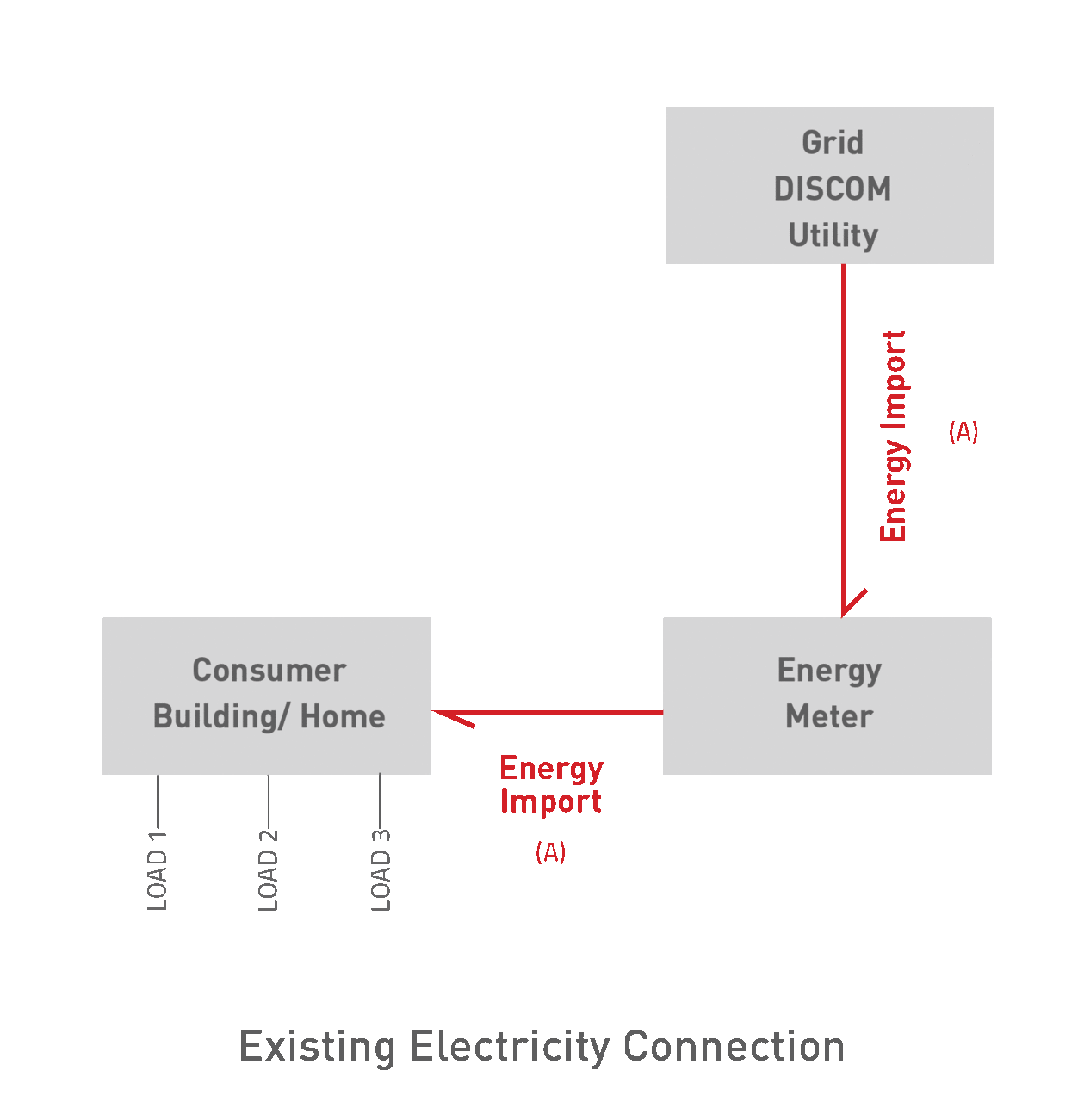 Electricity Bill with Solar net-metering
Under solar net-metering in Uttar Pradesh, the consumer only pays for the difference in energy imported and the energy exported.
Illustration: If a Consumer in Noida imports 1000 kWh in June billing period and exports 600 kWh in the same period, the Consumer will be charged for only 400kWh. If the import energy in the month of July is 500 kWh and the export again is 600kWh, then the excess 100kWh will be carried over to the next month's bill or next billing cycle and adjusted there. At the end of the settlement period (usually a 12 month period), any balance and unadjusted carried forward excess export will be paid to the Consumer at a pre-defined tariff (rate/kWh), which will be notified from time to time by the relevant authorities.
Illustration
A case for a Noida-based residential consumer who has almost negligible daytime electricity consumption on weekdays and has a monthly electricity bill of Rs 10,000 sets up a 10kW Solar PV system
| | | |
| --- | --- | --- |
| (A) | Monthly Energy consumption (Import from Grid) | 1,441 units (kWh) |
| (B) | Monthly Solar energy generation(Solar energy consumed by consumer) | 364 units |
| (D) | Balance solar energy (Exported to Grid) | 910 units (1,274 – 364) |
| (E) | New Monthly import from grid | 1,077 units (1,441 – 364) |
As the net import export, the net billable units = 167 (1,441 - 364 - 910) leading to a reduced monthly energy bill of Rs. 1,776, which is a saving of Rs. 8,224 per month.
Had export been greater than the import, the difference would have been carried forward to the next billing cycle. Any unadjusted units are paid only at the end of the settlement period at a predefined rate, which currently is Rs. 0.50 for Noida.
| Category | Existing Electricity Connection | With Solar Net Metering |
| --- | --- | --- |
| Monthly Import from grid (units or kWh) | 1,441 | 1,077 |
| Net billable units | 1,441 | 167 |
| Grid Electricity Bill (Rs) | 10,000 | 776 |